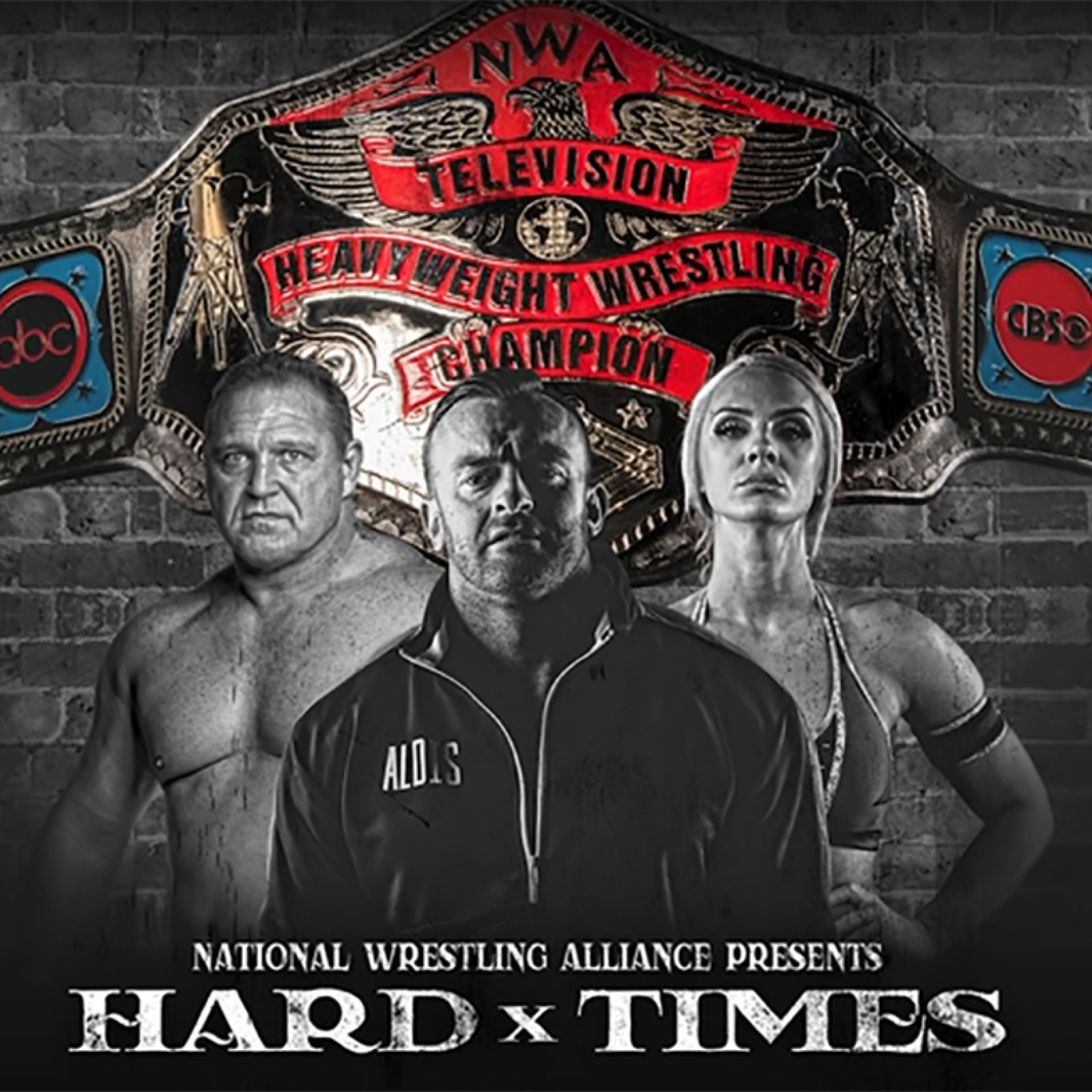 Matches:
1.Quarterfinal: Murdoch vs Question Mark **3/4
2.Quarterfinal: Maff vs Dice ***
3.Quarterfinal: Cross vs Starks ***
4.NWA World Tag Titles: Rock n Roll Express(c) vs Strictly Business (Wildcards) vs Storm,Drake **3/4
5.NWA Women's Title: Kay(c) vs Thunder Rosa ***1/2
6.Semifinal: Maff vs Murdoch ***
7.Semifinal: Starks vs Storm **3/4
8.NWA National Title: Stevens(c) vs Steiner *1/4
9.NWA World Title: Aldis vs Flip ***1/2
10.NWA TV Title, Tournament Finals: Starks vs Murdoch ***1/4
Thoughts:
The first season of NWA Powerrr failed to truly hook me and I had a few issues that held me off from really watching more than the bare minimum. That changed recently, with the second season, which won me over with largely due to the heart shown from the show. I saw someone compare it to main roster WWE today, as in good presentation but average in-ring content but there is more passion on display in NWA than I've seen from Raw or Smackdown in years.
Yea, I still hate the fucking name of the show and I have no idea if they're going to keep me watching, but the second season gets a thumbs up from me and it all came down to Hard Times to cap it off.
The show featured a few key angles.
Up first, we got out first round of matches in the night's TV Title Tournament.
The first was pretty decent and I appreciated seeing Murdoch pick up the win over the previously undefeated Question Mark.
Come second, both workers worked hard and surpassed expectations. Itwas a good sprint. More Maff in NWA, please!
Third, Cross was incorrectly announced as representing ROH. He and Starks had a fun, short contest and, like I said with Maff, I hope they bring Cross back to the NWA Arena! He remains an Amazing Red level talent that just deserves more breaks than he gets.
Fourth, we got a...forfeit. Anderson wasn't cleared, giving Tim Storm a bye. Yea, that sucks but it is what it is.
Stu with some...Breaking News! The Crockett Cup returns in April and will take place...somewhere bigger!
Taking a break from the tournament, Rock n Roll Express put their legacy run on the line against the former champs, the Wildcards, and the new union of James Storm and Eli Drake. I like that last pairing and am excited to see where to go with them and was surprised that they were given the nod. Decent contest but nothing major outside of the results.
Nice enough promo post-match. Beer Muscles? Bottoms Up? Drinking Buddies? All good options for team names.
The MOTN followed and saw the second title change of the evening. Thunder Rosa is an awesome talent and it was great seeing her take the championship. I'm wondering what's next for the division as it's been one of my favorite parts of NWA since I started watching regularly. They were given a lot of time and the hot crowd certainly helped, but really the whole thing was just well worked by these two women to the point where it not only surpassed expectations, but also came off as a sincerely big match. Not the smoothest thing ever, but very good nonetheless and well worth catching.
Marty arrived and had some studio time, largely calling out Aldis for not defending the title against Flip Gordon. The Champ came out, accepted that he'd defend the 10 pounds of gold but only if he had control of what happened with the rivalry going forward. The fans largely took the side of the champ.
Semifinal action now, with a hoss battle first and a small/big dynamic second. The first was good, the second was pretty decent. The weird moment with the perfect storm was, well, weird. Stu and Galli tried to sell it but it's a hard sell. I have a few theories and hope I eventually hear the story behind it if it's more than basic. Anyway, the storytelling so far in the tournament has been excellent. I didn't expect any of the matches to be all out since most of the time, outside of PWG, having people work several matches in a night lessens the quality, but most of these have still exceeded expectations in that field, too.
The match I expected to be a waste of time was an even bigger waste of time than expected. Aron Stevens does little for me, especially in this gimmick, and Steiner is far more miss than hit, especially these days. That added up for a mess of a title match that ended in a disqualification. No thanks in general. Put the belt on Maff instead.
Aldis/Flip was good stuff and I'm intrigued by the added stipulation that is no in effect. While I consider the women's match the MOTN for a few different reasons, this was right there, too and I continue to love the way NWA is booking Aldis. The dude is a lot like Cody Rhodes and just requires the right situations to shine and he's getting it here. Aldis had to cheap out a win once again. Watch this one, too!
Quick bit of praise, but I wanted to give a shout out to Stu and Galli for doing such a good job on commentary not only here, but on the weekly Powerrr episodes, too.
The show closed with the crowning of a new NWA TV Champion. It felt a bit like a smaller scale, modernized version of when Jericho beat Austin and the Rock in the same night. Maybe that's just me, though. It was, in all, a fairly good match that felt like a nice moment and a proper enough way to close Hard Times. If Starks hadn't been rocked half way through, it likely would've been even better, but he bounced back nicely enough down the stretch.
Now, note that one of my biggest issues with the first season is that I thought the biggest need was to make the special events truly big deals, with a handful of recommendable matches. Into the Fire failed in that regard, in my opinion, from what I saw. Hard Times, and seemingly season two of Powerrr in general, surpassed what 2019 offered, easily though I'd still like it if the ppv matches stepped up a tad more next time around if they aren't running a tournament. In a way, this felt a bit like an extended episode of the show but I've been liking the show, so maybe it's not the worst thing? Still, this was overall a good, entertaining event with some good storytelling and I'm very hopeful for what's next from NWA and currently consider it one of my favorite things to watch in 2020.
Thumbs up to NWA for season two, Hard Times, and fingers crossed for what's next.
MLW, FantasticaMania, and DDT are likely next.
Overall Rating: 70/100%