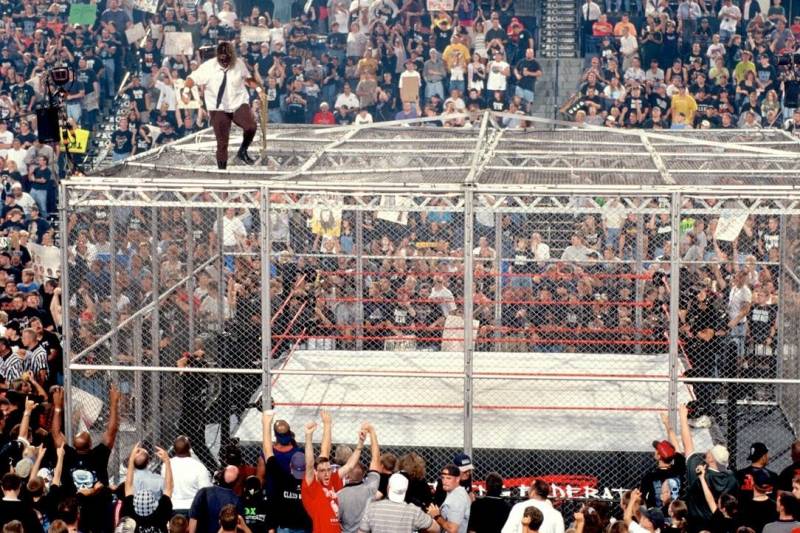 Match from Raw #199
1.WWF European Title:
British
Bulldog
vs
Owen Hart
***3/4
Match from WrestleMania 13
2.No Holds Barred Submission:
Bret Hart
vs
Stone Cold
****3/4
Match from In Your House 18: Badd Blood
3.Hell in a Cell:
Shawn Michaels
vs
Undertaker
****1/2
Match from King of the Ring 98
4.Hell in a Cell: Undertaker vs
Mankind
****1/4
Match from No Mercy 99
5.Ladder:
New
Brood
vs
Edge
& Christian ***3/4
Thoughts:
I'm unsure how many of these I'll do, but the original plan was just for two. There might be a third or more but time will tell. If you read my post on coverage going forward, it'll likely come as no surprise that I included links above that detail some allegations of some of the names involved in these matches. I think it's important to realize that enjoying content doesn't mean forgetting or excusing poor behavior and I plan on doing this going forward. I'll also include links to info on allegations in favor of victims as applicable. Basically, even if it's small stuff like wearing iffy shirts I might include it so you can decide for yourself. If I skip someone that you think should be mentioned, let me know and I'll add a link to the details.
Respect art and call out scum!
Pull one this time starts off in a similar way to the first grab bag, with the British Bulldog going to battle with a Hart. This time around, it was Owen and they were fighting for the right to be the inaugural European Champion. This was before the days of the soulless NXT UK, when a belt representing the area meant something. Of course, it wasn't long before this strap also didn't mean much, but Vince is gonna Vince. Either way this was a great battle that made both look good and made the belt look good, too. Hard to complain about that!
Up next, a match many consider the GOAT. I haven't seen this since I was a kid, for the record. I do remember my grandma walking in one the end stretch and nearly banning me from ever watching ever again thanks to the shock value it provided her. Watching today, I have to say this was one of the best matches in WWE history. The dramatic walk and brawl throughout a Mania crowd, the ringside violence, the drama of it all... Simply put, this rocked and I am glad I got a chance to see it again.
The first ever Hell in a Cell match followed, with HBK and the Deadman going to battle. Many remember this more for Kane's debut than anything else which perhaps some might think speaks to the quality of the content, but honestly this truly was fantastic stuff. I applaud the work and storytelling put in and the perfectly done debut just happened to be icing. The bright In Your House colors sure created an interesting contrast to the darkness of the gimmick, by the way but that's just a random nit. Regardless, this rocked.
Big spot, shock and awe is what defines number four thanks to Mankind getting tossed off and through the Cell. Perhaps it should be remembered most for the spirit Foley showcased. Taking multiple big bumps, working as the ultimate underdog before ultimately falling to the phenom! I remembered watching with a dropped jaw nearly every second of this years ago and that feeling isn't completely lost as an adult. I loved seeing this again!
Up last, the beginning of an era! The Hardyz/E&C/Dudley rivalry was my favorite feud as a child and this was the first big match of the saga. Now, as a reminder, this was the final part of the Terri Invitational Tournament with $100,000 hanging above the ring. Terri would also take over management duties for the winners. The building blocks for the bigger ladder and TLC matches were here and it also arguably popularized the spot after spot after spot format that most modern ones follow. I consider this a great outing and one of historical importance. Sure, it is far from the best ladder match ever, but hell if they didn't spark a flame!
I'll likely do more of these soon. Thanks for reading.