Being the Elite 180 Thoughts
Matt's injured after that big attack so we start with Nick and some of his trademarked magic shit. The Librarian stuff was fun this week and the mailbag with Best Friends and Orange was interesting to say the least. The big news is Omega is still hung up on Mox and teasing using his Mega Championship as leverage (he's defending it on Dark versus Evans next week) and Page leaving the ELITE.
AEW DARK 11/19 REVIEW
Matches:
1.Private Party vs Best Friends ***
2.Riho, Baker vs Big Swole, Stratlander **1/2
3.Young Bucks vs Strong Hearts ***3/4
Thoughts:
Dustin on commentary with Excalibur. I actually dig the weekly change up for the show, though I still want more Taz. Speaking of, NWA finally cut the fat. There is no chance they are truly surprised, though. I mean, Dinosaur Jim has a LONG history of bullshit statements and general bigotry. They knew that when they hired him. It is what it is.
The action on Dark this week made for a very fun hour of wrestling. Private Party and the Best Friends kicked things off with a good tag (though a tad below expectations), the women's contest was decent and I LOVE seeing Kris on the show, and the great spring of a main event that was nearly as awesome as I had hoped. I want the whole Strong Hearts unit in AEW soon, please! All tag matches this week. I watch a lot of lucha libre so that's actually okay but I can see some people being turned off by it. They also need to think a bit more about the layout of recording Dark episodes for continuity reasons. Minor stuff.
Oh, there's a Black Friday sale on the AEW site ladies, gents, and non-binaries. Just something to consider while you think about how awesome Justin Roberts is at his job.
In all, this was arguably the best Dark episode outside of the one featuring Omega/Janela. Check out the main event at the very least.
Overall Rating: 70/100%
AEW DYNAMITE 11/20 REVIEW
Matches:
1.Nick vs Fenix ***3/4
2.Baker vs Shida ***1/4
3.Dynamite Dozen Battle Royal **3/4
4.Luchasaurus vs Avalon NR
5.Proud & Powerful vs Private Party ***
6.Darby vs Mox ***1/2
Thoughts:
AEW kicked things off with a top shelf, high flying spectacle this week. It's been a while, but people forget that the Bucks are capable of great singles action. I'd hope everyone knows that's true of the Lucha Bros, too. I hope this served to remind people that don't follow AAA that Fenix is one of the top three in the genre right now, either way. Great stuff, so check that one out for sure! Fenix walking away from a handshake was a nice touch.
The women's match afterward was a nice surprise as I'm pretty sure nearly everyone expected Baker to take the win and set up a title match. I'll presume that's being saved for either the next special event or the Bash at the Beach shows. Parity is important as is adding surprise outcomes at every level and AEW is doing that better than nearly anyone else.
The Dark Order spot was...interesting.
The Dynamite Dozen battle royal was decent. Gunn was fun in his role, CD and Penta had a building block, Havoc somehow was disqualified, Janela and Spears used as a rider to push story, and MJF continues to get nice amounts of heat. Page will face him next week for the diamond ring.
I'm glad they capitalized on Sky pinning Jericho last week. Good segment and I look forward to the celebration stuff. Luchasaurus had a nice moment and Inner Circle in general looked good.
Note that this was the first week AEW lost to NXT in the ratings, by the way. It took a lot of cameo appearances and they still lost in the key demo, but expect AEW to take note and make adjustments, either way.
Lucha and Avalon was a squash.
I love the Matt Travis shirt/shoutout. Pretty sure I heard the commentary mistake PP for falling to Dark Order, by the way instead of to the Best Friends on Dark. The semi was good, but it felt more conservative than expected and never truly hit the levels I thought it would plus and there were issues throughout. Oh well. Some circus stuff happened post-match.
Entertaining Omega promo.
This week's Dynamite ended on a high note, with a very good dream match that most of us didn't even realize we wanted before last week. I'm so glad Darby left EVOLVE. JR tried to compare him to Jeff, which I loved. Both worked a nicely paced, well balanced sprint that did well for their preferred styles, the right dude won, and the finish was pop worthy. Not much to complain about, really.
Another very enjoyable episode of wrestling television.
Overall Rating: 75/100%
RANKINGS + THOUGHTS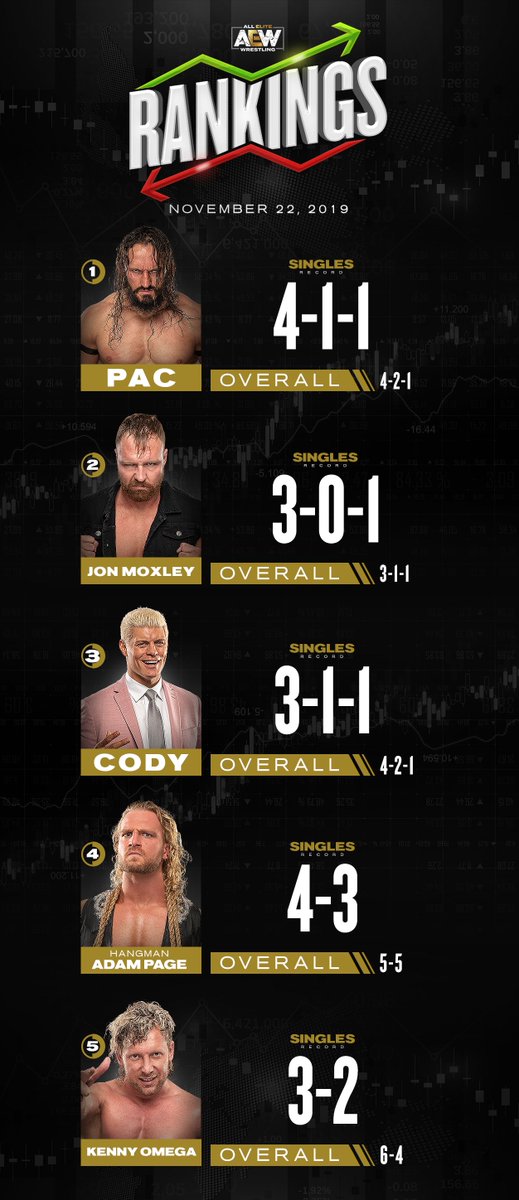 Men's Division
Champ: Jericho
1. PAC
2. Moxley
3. Cody
4. Hangman
5. Omega
Thoughts:
If Omega wins next week, Mox would be in position for the next shot (arguably). That said, they're playing a bit fast and loose with the rankings and title shots already. At least it makes sense why Sky would get a shot, even if Jericho hadn't been kayfabe lulled into one.

Women's Division
Champ: Riho
1. Shida
2. Baker
3. Emi
4. Nyla
5. Allie
Thoughts:
The women's division has people with loosing records in the top five due to the booking style of AEW, but I kind of dig that. Shida winning was a nice move this week, if nothing else.

Tag Team Division
Champs: SCU
1. The Lucha Bros
2. The Young Bucks
3. Private Party
4. Proud-n-Powerful
5. The Dark Order
Thoughts:
Parity is important and the tag div showcasese that well. Multiple plots overlapping nicely here, and it's easy to see "upsets" as being possible every single week.