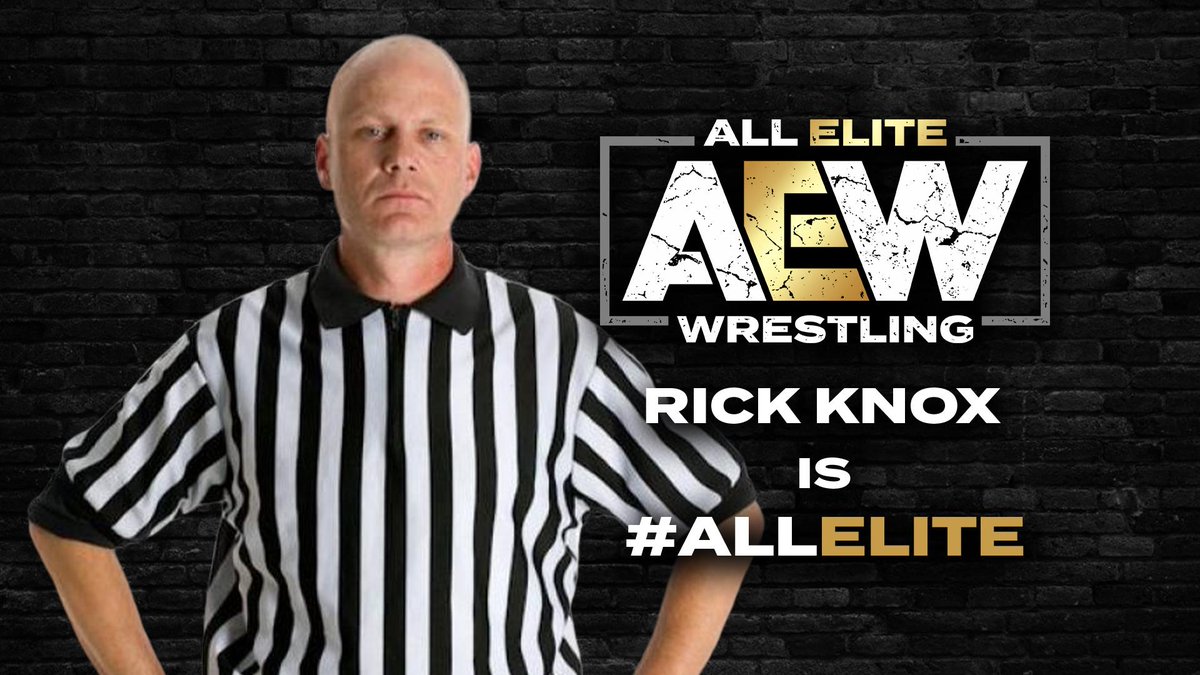 Pro wrestling referees are in an interesting spot, as they are required to actually do several jobs at once while largely remaining ghosts in the ring. But, every once in a while, a ref will get handed an additional duty and be required to take a bump. In cases such as that of cult icon, Rick Knox, you might even be asked to be involved in major spots and get some offense in.
I had a chance to speak with Knox recently, talking about everything from Lucha Underground, to AEW, and even about his current playlist.
Take a look...
Red:
First of all, thank you for agreeing to the interview and congrats on the new job. Now, you've worked for some of the most popular wrestling companies in the world over the years including PWG, Lucha Underground, and Wrestling Society X. Are there any companies that you didn't get a chance to work with that you regret missing out on?
Knox:
You know, I don't really think about that a lot... I just concentrate on what I know I have ahead of me. But, in today's wrestling scene, I remember thinking AAW sounded like a lot of fun, and luckily I was able to work for them last year when I was in Chicago. I've always been impressed with Wrestle Circus out of Texas too.
Red:
You're known to get physical from time to time, including several times in PWG. What's the craziest spot you've taken part in?
Knox:
Ha, another tough one! All the physical spots are hard! They suck!!! Lol, no really they are (usually) a lot of fun. I remember we did a show in San Diego where I did a big dive into the crowd on Rey Mysterio, Pentagon Jr., Fenix, Jeff Cobb, and Bestia 666. It got a way crazy reaction and the pop for it was pretty nuts. Also once at PWG, there was a match with the OVE guys, and Sami made me do like five or six dives in a row. I was so blown up I could barely stand afterward.
Red:
How would you describe the backstage atmosphere during Double or Nothing?
Knox:
Incredibly inspiring. There was so much fire and energy from EVERYONE at EVERY LEVEL. It was contagious. It was the first time my wife had been backstage at a huge event with production like that and she was so excited and fired up. And she couldn't care less about wrestling hahaha.
Red:
So, as a musician I'd be missing out on asking something in that realm. I know you're a huge The Who fan and listen to a lot of punk rock. What modern bands do you enjoy?
Knox:
That's a hard question... honestly I'm not too sure if I listen to any modern bands hahaha... I mean, listen... I grew up on old school American hardcore punk; but I like a lot of other genres as well. I like punk in all of its forms: hardcore, old school English, street Oi, old New York glam punk, everything. Like you mentioned, I'm a big Who fan (seeing them this October for I think the 12th time) and I like all sorts of eras of mod / ska... surf guitar rock, classic rock.. throw some speed metal in and mix with some 60s psychedelic garage pop... If I hosted a radio show, it would be very eclectic hahaha.
To give you an idea my current playlist for the spring and summer months are:
*Adrenalin O.D. (Wacky HiJinks of)
*Bad Religion (various)new one
*Buzzcocks (2nd album)
*Clutch (various)
*Dead Kennedy's (live 3disc set)
*DEVO (singles collection)
*The Kinks (Village Green...)
*Negative Approach (anthology)
*NOFX (Ribbed... Live)
*7 Seconds (Old School & Good To Go CDs)
*Sex-Pistols (mini album)
*The Specials (new one)
*Stiff Little Fingers (Live Aberdeen '79)
*Joe Strummer & Muscaleros (Global A Go Go)
*The Who (Quadrophenia live 2013)
*"Where You Gonna Go?" ( Detroit '60s garage bands compilation)


Red:
What promotions do you watch regularly?
Knox:
Honestly, I really don't watch Modern wrestling too much. I mean, I'll check out clips and stuff on the internet if they come across my feed. But, as far as regularly watching shows, there are none. I tried my best to keep up on Lucha Underground when it was on but I have to admit that even during the fourth season it was hard for me to watch being injured and all.
Red:
Who do you consider the best to wear the stripes?
Knox:
My all-time favorite referee is my hero and idol, Red Shoes Dugan. Sadly, he is no longer with us but in his prime he was the most athletic and the most respected ref in the business. I say it all the time, but I love to tell the story that Red Shoes Dugan was so well-respected, he was quite possibly the only referee who could referee a WWF championship match (Backlund vs. Inoki) in a New Japan ring in Tokyo while wearing an NWA referee jersey. As far as guys that really made me want to do it, obviously Tommy Young comes to mind. And, in today's wrestling, Charles Robinson and Mike Chioda are obviously great, and there's a reason they are where they are.
Red:
Is there anyone not signed to AEW right now that you'd like to see added to the roster?
Knox:
Oh yes, there are many. I work with a lot of guys from all over, and there are guys like Tim Thatcher, JR Katos, Ryan Taylor, Jake Atlas, as well as bigger names. Old friends like Anderson & Gallows, Steen/Owens, Zayn/Generico also come to mind.
Red:
The writing on the wall says Lucha Underground is not only dead, but has been for a while. As sad as this is, have you heard anything more official or does it also seem to you that they are trying to let it fade out quietly.
Knox:
I have heard absolutely nothing from an official level. There were rumors last year that they were getting ready for Season 5, and even had a new Temple picked out (an abandoned church). And then nothing for the longest time. I heard recently of murmurings of a "meeting" to discuss the next season, so who really knows. It's too bad. If the show does return, they will need a lot of new faces/characters since so many requested their releases. But that's also good, because it creates a lot of positions and opportunities for other people to step up.
Red:
What are your thoughts on WWE?
Knox:
They are and always will be the biggest name in the game. I don't see anyone overtaking that. I haven't watched their programming in a long time, but from what I read and hear, the product apparently has gotten very stale and predictable, even with their new direction of being more fan-centric. It's unfortunate, because they have all the tools at their disposal, yet still continue to regurgitate the same things over and over.
Red:
Anything you'd like to say to aspiring referees?
Knox:
Keep you eyes and ears open, and mouth shut. Treat EVERYONE with dignity and respect. You never know who will be in a position of power and influence. Put in the work at whatever level you're at. Good things will always come. Hard work is always rewarded.