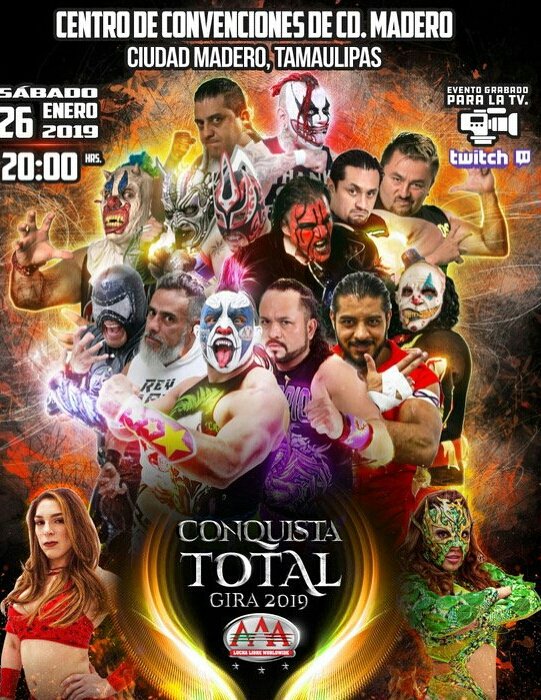 Matches from AAA at Centro de Convenciones en Tamaulipas
1.AAA Latin American Title: Drago(c) vs Argenis vs Golden Magic vs Parka Negra ***1/4
2.Jinetes del Aire,Murder Clown vs OGTs ***3/4
3.Mercenarios,Monster Clown vs Psycho Clown,Rey Wagner,Aerostar **3/4
4.No DQ:Ciclope,Miedo Extremo vs Lider,Pagano ***
Thoughts:
I continue to catch up on AAA, a company I've been watching for years and one that has had more ups and downs than a freaking seesaw. Currently, they are riding a decent high which is aided by their new partnership with AEW.
We start with Drago's first defense of the Latin American Championship since beating Fantasma for it in December. The talent involved made this very promising. It was especially nice to see Parka Negra in an title match. While it was basically just a move after move spotfest, that was kind of the point. Ten minutes of action and a good match. I hope that Drago remains champ for a while if these fun little defenses are what we'll be getting more of as a result.
Up next, the Trios Champs had Murder Clown of all people filling in for Laredo Kid. This was much more fun than expected, even if it it was obvious that it was thrown together at the last second. The OGTs are one of the best teams for a group like Jinetes to face. This built up nicely into a great outing and should be added to your watch list.
The Mercenarios six-man had an iffy finish, but was pretty decent otherwise. Monster and Aerostar feuded here as did Psycho and Escoprion, which were one of the better parts of the match. Psycho continuing to high five fans after the initial attack from Escorpion was gold, like most things he does.
Fun fact, but Psycho Clown actually has a cameo spot on Netflix's Nailed It! Mexico. I love the Nailed It! series.
Our main event capped the evening off nicely enough and was filled with the violence you'd expect from these four. Avoid that one if you are anti-death match, as that's basically what it boiled down to. AAA is one of the few major promotions globally willing to have a match like that on their cards, let alone main-eventing a show.
Here's another fun fact. MASADA hates when other people do the skewer spot so he certainly hated that one having multiple such spots.
In all, these four provided for an hour of solid entertainment. Check out the Jinetes/OGTs match if nothing else.