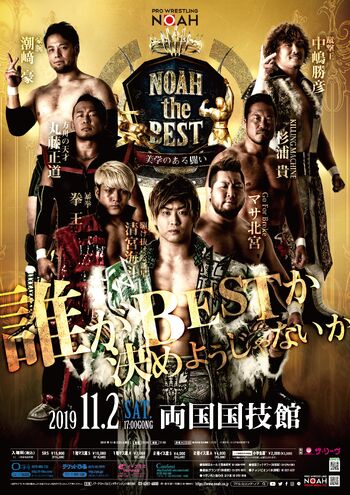 Matches
from Pro Wrestling NOAH The Best: Battle of Aesthetics 11/02/19
1
.GHC Jr HW Title: HAYATA(c) vs YO-HEY ***1/2
2
.GHC Tag Titles: AXIZ(c) vs The Tough ****1/4
3
.GHC National Title: Elgin vs Sugiura ***3/4
4
.GHC Heavyweight Title: Kaito(c) vs Kenou ****1/4
Thoughts:
This is from that huge NOAH show they ran recently, and was one I was pretty excited for. I held off on catching up on New Japan to watch it, actually. Props to NOAH for making this show feel truly special, by the way.
The Junior contest was pretty good, showcasing both nicely enough though it could have been a touch better. The Tag was a near MOTYC and an old-school style puro tag contest that I loved. The crowning of the first National Champ saw a great hoss battle between two of the style's best. And the main was truly fantastic, with Kaito once again showing that underdog spirit that he's been perfecting and Kenou again displaying why I consider him the best guy on the NOAH roster.
Do yourself a favor and click the links. NOAH has surely done more than enough to earn your attention back at this point so don't miss out!