October 28-30
To put an extra emphasis on AEW here in the blog, let's try something new out for size...
We'll be going day by day here, starting with Monday's BTE uploads, moving on to Tuesday's Dark next, and closing with Wednesday's Dynamite! And it's worth mentioning that the weekly roundup mvp spot will still possibly include AEW talent...

Let me know what you think.
Nick does his best Chris Angel impression and becomes, The Merch Freak! I love that on Dynamite, following the post-match attack from Santana and Ortiz this week, they actually had a brief reference to this ongoing BTE plot, by the way.

Is Orange even truly alive or is this all an elaborate, Weekend at Bernie's thing?

Cody has a moment with Page similar to Omega's from last week. When will he turn and join the Inner Circle?

The aftershow shit next to end the episode was entertaining. Like prudes playing strip poker minus the poker.


AEW DARK REVIEW
1.Dustin, Kiss vs Avalon, QT **1/2
2.Emi vs Ford vs Gibbs vs Allie ***
3.Falls Count Anywhere: Darby vs Havoc vs Evans ***1/2

Thoughts:
Peter continues to use that cheap heat. Also, Dustin and Kiss certainly make up an interesting tandem that I'd actually like to see more of. The opening match was decent but nothing major.

Up second, women's action. Good enough match, but nothing must-see. The winner was a minor surprise, too.

I liked the MJF/Cody segment.

The main event was the only thing truly worth seeing on Dark this week. To be fair, Dark is a solid companion piece to Dynamite for those who just need a little bit more AEW so that context is important. I get that and honestly, I like seeing where they're going with things by checking in. Besides, that recent unsanctioned war with Omega and Janela match was awesome.

Darby winning gets him back on track after his failed title shot main event as a bonus and he continues to be used in a way that I love. Thank god he left EVOLVE.

If you only want the highlights, watch the closing contest.

Overall Rating: 60/100%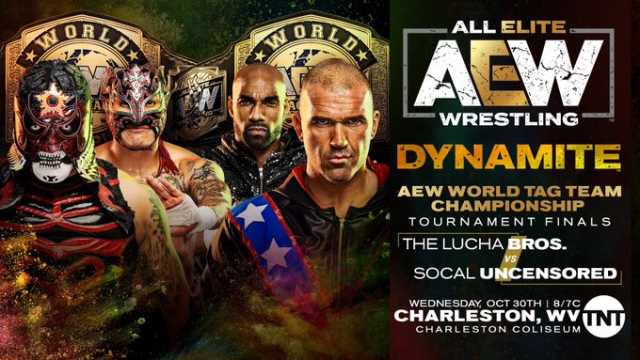 Matches:
1.Guevara vs Page ***1/2
2.Shida vs Shada ***1/4
3.Best Friends, Orange vs Beaver Boys, QT NR
4.ELITE vs TH2, Kip ***1/2
5.AEW Tag Titles: SCU vs Lucha Bros ***1/2

Thoughts:
My only real complaint this week was that the limo stuff seemed to go a bit long. That said, this was another very good 2 hours of wrestling. Mox/Khan was perfect, and I hope that's the closest we get to an on-screen Khan.

The opener was very good and Page came off like a star. Sammy looked good, too. Cowboy shit!

The women's match kept the ball rolling nicely enough and Shida is hopefully being set up for a title shot down the line. That was one of the better women's matches in AEW so far. I have no idea where the Brandi stuff is going and I admittedly don't care much about it. I want the women to do great and hopefully things start to gel more, either way. Also, are we still getting the Kong clash?

Inner Circle (fka LAX/EYFBO) taking out the Rock n Roll Express was a smart way to get some heat. I like Rick and Morty, but I didn't care for the pads and tie-in match. It was short and largely easy to get past, at least.

Now, I want to give major credit to the way the contract signing was done. They didn't go the WWE route, which ALWAYS ends in a flipped table and generic brawl. Instead, we got an NWO style moment that worked well to push things further. Not bad.

I LOVE Omega's entrance this week! The nonstop action trios clash itself was also very good and the attack after was decent.

Mox killed it in his segment and should be champ sooner than later. Likely the guy who takes it from Jericho in a few months. He's their Stone Cold.

The main event deserves a bit of praise, too. I don't love roll-up finishes, but it worked here, the match was very good, and AEW continues to be unpredictable at times which is a major plus. I wonder if SCU won because of the way Penta and Fenix's contract situation is with AEW or if they just thought SCU was the best option here.

AEW Dynamite once again put in two hours of content that felt much shorter simply because of how entertaining it was.

Props!
Overall Rating: 75/100%