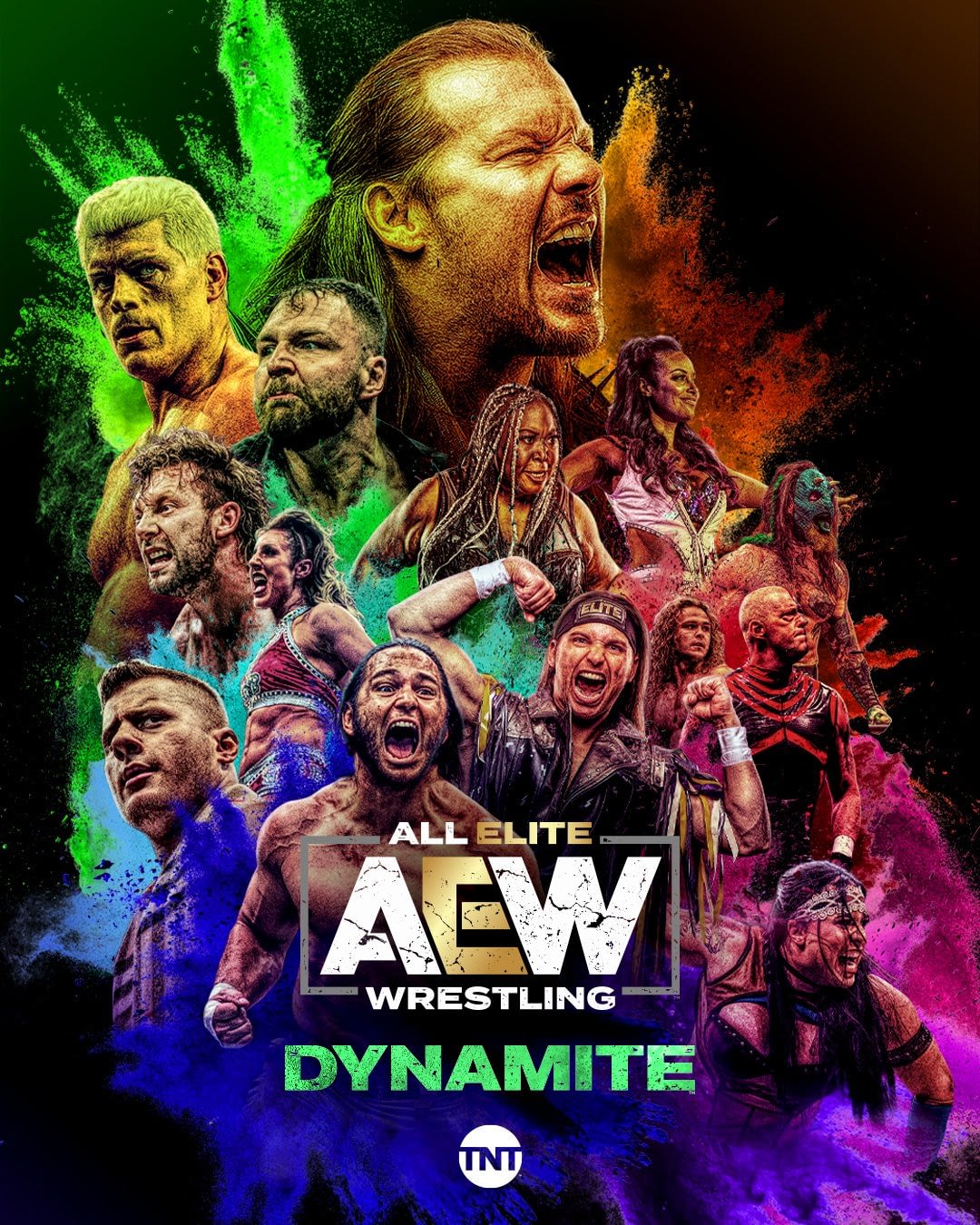 Matches:
1.Cody vs Guevara ***1/4
2.Cutler vs MJF NR
3.PAC vs Page ***1/2
4.AEW Women's Title: Nyla vs Riho ***1/4
5.The ELITE vs Jericho, Santana, Ortiz ***1/4
Thoughts:
It's officially time for the first installment of AEW Dynamite! Remember that after this one, ratings will be located in the weekly roundup posts.
I had some issues with Dish, with the feed cutting as soon as the opening theme concluded and not coming back until Sammy's music hit.
I appreciate kicking things off with action either way and they included some story threads nicely here. In all, a good enough start to the debut episode and it actually built up nicely as it went along. I dig the way Cody is being booked so far in AEW. The finish could have been better, but we'll see how they follow up. I mean, it showed Sammy crash and burn which is logical, at least.
The segment after was a perfect way to do just that. Getting Jericho on TV early here was a good call and I appreciated that, despite cutting to commercial during the attack, they still had a picture in picture so that we didn't truly miss anything. I just wish I could hear the response from the crowd, though as most of the abuse was muted. At least the promo wasn't during that section, because that would have been shitty.
The fact that they had this go on for so long was an interesting move.
Time for Cutler and MJF! I was hoping we'd get a long promo from MJF and that's what we got. Cut him loose and let him talk every week and you'll have gold. I love Brandon's gear here. I will be bugging him until I get the interview for the blog, by the way. The knee slip from the top and quick finish after sucked a tad and that's two matches in a row with iffy endings. If we're looking for complaints, that's one. Nothing you need to really fun and see here, sadly and too short to even rate.
Jay and Silent Bob appeared to promote the reboot movie (featuring Jericho). I haven't seen Smith for a while, but he looked a bit sick. They were interrupted by Evans and Angelico and then we got Private Party. The segment was actually a tad iffy for my taste. No big deal and I am actually excited for that film and it seemed fitting for the crowd.
SCU at the White House with Scorpio impersonating Obama followed. Better than throwing a shitty rug and cheap spray tan on Kaz, but I wonder how many drone strikes were called in during that segment...
They spent both of those segments building up the tag tournament, including SCU announcing Kaz and CD as the duo being involved. Fair enough. Lucha Bros appeared here and both groups brawled.
Malenko sighting.
I'm just never huge on these types of segments, preferring story progression to be handled a bit different. No huge deal, either way but, back to wrestling, please!
After a break, we got just that.
PAC/Page, a rematch from the Summer, was next. I enjoyed that one, so hopes were high here. JR said that any commercial break during action will be PIP. I wonder if that will be true every week. That did come into play during this one. I enjoyed the contest and the outcome though the finish was again a bit off from my taste. Still, all hail the Bastard! Less bs, though, AEW.
I like the Women's belt design. Oh, and NWA's new Women's strap is awesome looking, too. Back to AEW, I also like the records being listed during entrances. The contest was good, with Nyla setting herself firmly as a top heel going forward and the right person taking home the belt. Good use of the dynamic and, save for a few missteps, this was fairly good. The kick out after three and attack after were bonuses. I especially love Omega making the save and the fact that he was wearing a ONE shirt was awesome.
Now, for the main event. So, I have no idea why that Mox run in wasn't a DQ from a logic standpoint. I actually asked Knox but haven't heard back yet. I will say that the run in, ignoring the obvious issue, was well done and that the match itself was highly entertaining with the right team winning and the after match content closing the show on a high note.
A few things to dissect in that post-match...
First, I like closing on chaos. Having Cody run in, though he got no help at all in the opening attack, just to be taken down by Sammy was smart booking. Following up with a failed save from Dustin and then a debut of Hager was also great. Note that I have been telling people for about a week about Hager coming in officially and mentioning the possibility in general for much longer.
Second, I like the overall story progression here. Mox/Omega and Jericho/Cody are the two biggest matches on the horizon and both were sold here, plus LAX/Bucks. I am actually hoping that the heels standing tall at the end is meant to be the start of a faction, but we'll see.
In all, the main was far from must see in terms of wrestling quality yet is required viewing if you plan on taking this journey with AEW.
I dig the production and general look of the show. The biggest issues were largely minor. The biggest of those are the amount of shenanigans on display but it's just the first episode. The commercial breaks were easy to deal with mid-match because at least we had PIP. They focused largely on wrestling and even the segments they did run were short. In many ways, it felt like the good era of WCW mixed with new blood and energy. I consider this a strong start and look forward to seeing what they have in store.
AEW Dynamite promises to be a force and it's better to recognize that now than to ignore or mock it. If you missed it, fix that now and get a taste of what AEW is offering. I'll be back for next week's episode, for sure and I hope you are, too!
Overall Rating: 75/100%