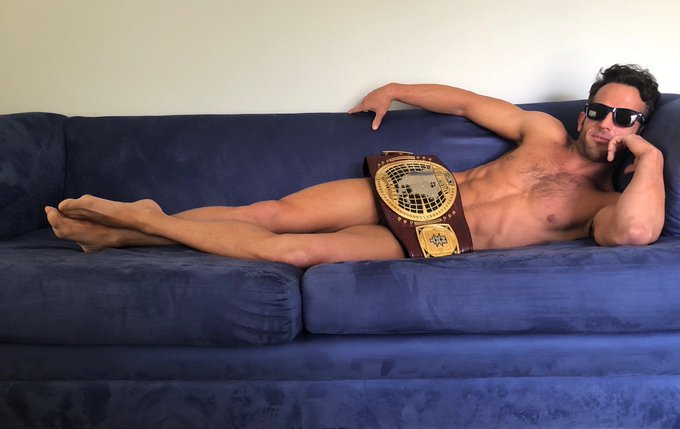 Week of 09/15-09/21
THIS WEEK'S ROUNDUP MVP: Roderick Strong
Strong won the North American Championship this week during the beginning of NXT's USA era. As a result, every member of Undisputed Era now holds gold. That alone is pretty cool, but the fact that the match was great and that Strong came off looking like a star solidified his spot here this week!
TV MATCHES OF THE WEEK
1.Penelope vs Whisper ***
CHIKARA PCAGG
This was a good, US indie style sprint with both coming off well and the arena choice made for a fun background. Note that I decided that PCAGG uploads deserved to be added here, by the way.
2.Rex vs Samrat **3/4
WIN Dangal ke Soorma
Samrat won, but Rex is the one that impressed me the most here with his spotty, indie style as opposed to Samrat whom came off a bit iffy at times. Basically good, but skippable either way.
3.Scurll vs Bandido ***1/2
ROH TV
Bandido's one of the most popular roster members and this was easily one of his biggest matches since joining the company. Marty was in true villain form for this one and looked like he had a good time throughout and they both worked hard to make for a very good match. The Villain Enterprises/Lifeblood angle is the best thing in ROH right now, for the record. Check this one out.
4.LeRae vs Mia Yim vs Belair vs Io ***3/4
WWE NXT
Note that I am watching this episode with Hulu which does have a few issues throughout. This was a great match and a great way to start things, kicking off the USA era strong. LeRae winning was icing on the cupcake and I love the layout here.

5.WWE North American Title: VD(c) vs Strong ***3/4
WWE NXT
Yea, it was over-booked a bit but I still enjoyed this one and I love the outcome. I've been hoping they'd pull the trigger and have UE wearing all gold and they finally did. This was easily one of my favorite contests of the week. It's worth noting that on Hulu, they had the entertaining Imperium/KUSHIDA segment right after which seemed like a weird spot. Still, I'd really like to see UE/Imperium in the War Games match and I hope that's what this is building to.

6.CW #1 Cont: Lio Rush vs Oney ***1/2
WWE NXT
It's nice seeing Lio Rush back on TV and this being an obvious tie-in with 205 is an interesting 1st step. I really don't want to see that show end, but if it does it does. For all of NXT's flaws, talent is not one of them. I just hope they keep a clear separation between the divisions. Oney is one of the best workers in WWE and I'd love to see him hold the belt at some point. Still, Lio winning was an interesting call. Let's see if he can stay out of trouble this time.
7.Street Fight: Riddle vs Dain NR
WWE NXT
I considered counting this week's NXT as a special event and putting a full review of the episode. I ended up putting it here, obviously, instead. That said, I want to note that this entire installment was sincerely awesome. I've said before that NXT's weekly shows are hit or miss and that 205 tends to be better, on average, and that the TakeOver events are usually the only must-see thing from the brand. Well, that was far from true this week. The "street fight" main event to close the show was basically a giant brawl that ended up including a major portion of the NXT roster. They went for a chaotic ending that kept the rivalry going while getting and I get what they were aiming for. They largely succeeded and, honestly, if you missed the episode you need to just go watch it. Trust me.
8.Open the Twin Gate Titles, No DQ: RED(c) vs Natural Vibes ***3/4
Dragon Gate Cutting Edge
This started with a brawl that included Horiguchi getting a hair cut and kept a solid pace throughout as they told a strong story and worked their asses off. The ending in general was awesome, but the whole thing was just great. Cutting Edge remains one of the most consistent wrestling shows and something I hope you consider checking out!
9.PCW ULTRA Title: Mil Muertes(c) vs Maff ***1/2
PCW ULTRA MUTINY
I'm still a big fan of Mil (and El Mesias in general) so I love that he's the top dog of PCW Ultra and I was looking forward to seeing this defense. It was a very fun hoss battle that I hope won Maff some new fans. Check this one out and make sure to tune in for PCW ULTRA's show from time to time.

10.Lightning: Soberano vs Templario ***
CMLL Viernes
This was a good sprint but it ended in a draw right when it was picking up and getting even better. Add that with a touch of sloppiness and you have something you can safely skip unless you're just super bored. I'm still not convinced that Soberano isn't Spider-Man.
FREE MATCH UPLOADS
1.NWA Women's World Title: Allysin Kay(c) vs Heather Monroe **1/2
NWA (CWFH)
I didn't care much for the shenanigans, of which there were many, and the overall formula used here just didn't work for me. Both have talent but only got to show tiny glimpses of it. I just hope the new NWA series isn't full of this type of content. Skip this one.
2.Miyu vs Maiumi ***1/2
DDT (TJP)
Mat heavy, exhibition style action here. One of the purist matches you'll see all week and honestly one of my favorites of the roundup. Miyu is so good, and if you enjoy technical battles this is for you.
3.Pentagon vs Rush vs LA Park ***1/4
AULL
AULL keeps the neverending story going by adding Penta to it again. At this point, if you've been following the feud, you know what to expect here and should know if you'll like it. Personally, I love this chaotic lucha brawling rivalry and I did enjoy this latest addition. Yea, a shit finish was expected and I rate this one just outside of recommendation levels, but it was enjoyable either way and something worth considering if you're as big on Park/Rush as I am.
OTHER
1.Being the Elite #170 Thoughts
MJF and Tony's segment to kick this one off was well done. I still stand by my claim that MJF is a better version of The Miz. SCU then debate on which combination they should use for the tournament. I think CD and Sky could be a fun mix but any pair will be good. Too bad I'm not in Cali for the free event with the Bucks. The match announcement this week was Cutler versus MJF which could be decent. Their back and forth on Twitter has been wildly entertaining, but I'm a huge dnd nerd, so...This week's mailbag saw Peter Avalon acting cranky and Omega acting crazy again, hopefully getting us closer to a return of the Cleaner!
2.The Road to AEW All Out #3 Thoughts
A Riho segment kicked this one off. These road to vids are always high quality! Tony then promotes the card for the TNT debut, gets a good interview recording played from MJF, and then announces the bracket for the tag tournament. I expected it to feature more teams, admittedly. In fact, I'm pretty sure it was supposed to. Not sure what happened with that...still, it should be a fun ride.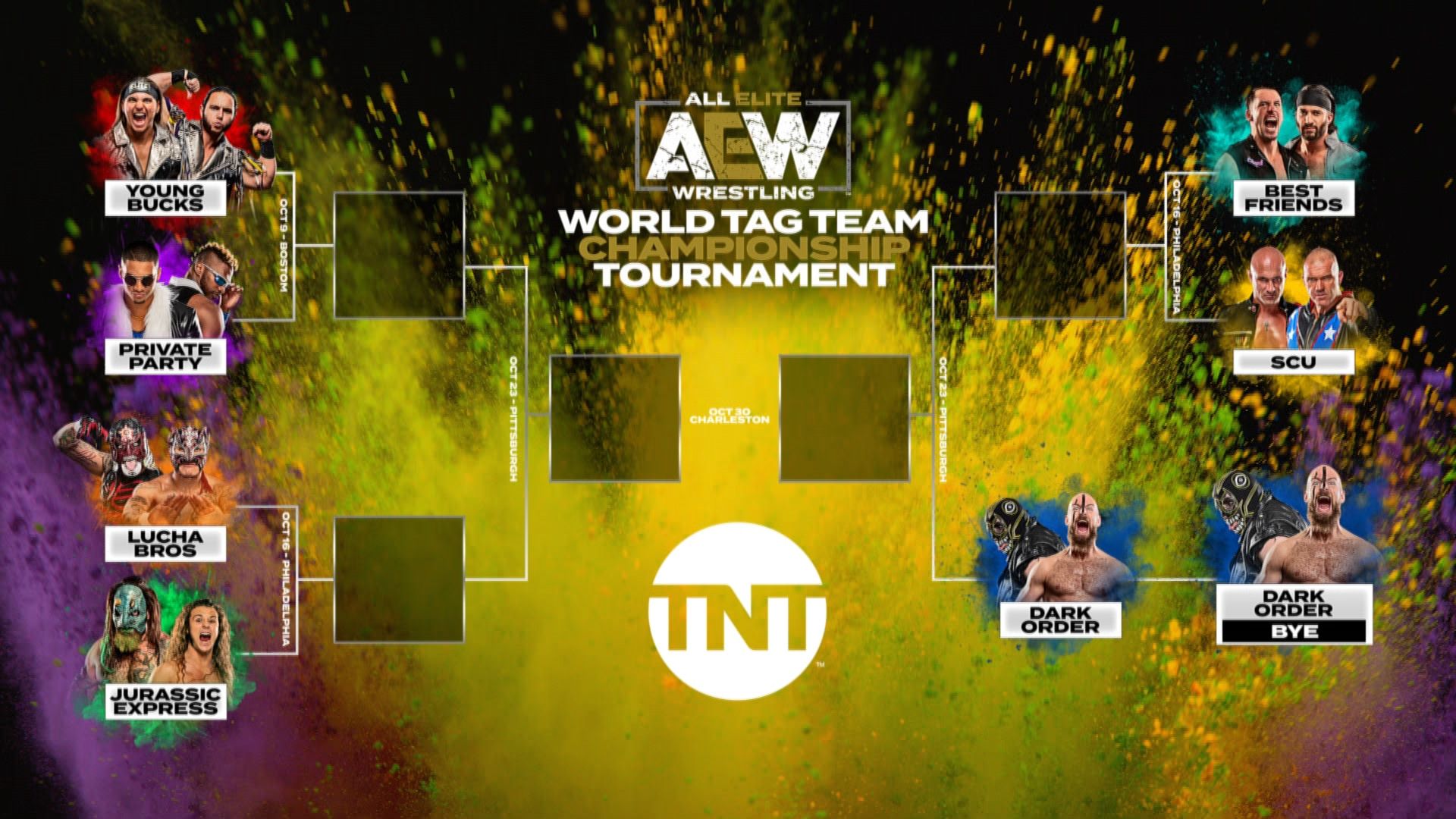 3.WRESTLE-1 TV #128 Thoughts
Two nights of action, both celebrating the sixth-year anniversary of W1, make up the latest edition. Seiki gets a win to kick things off this week followed by Pegaso and Andy Wu picking up a tag team win of their own. I still don't like Pegaso's newer look. The semi looked fun and set up Pantera's first challenger. I hope we get a long title run out of him! The main event from night one saw the Enfants fall. Rene Dupree joined the group for this contest but I really hope it's not long term. Kodama is left in a comatose state. The second night saw ET rebound with Pegaso eating the pin. A cruiserweight three-way semi looked fun, reminding me of how fun the division can be. W1's cruiserweight division, in fact, is one of my favorite things in wrestling if I'm being honest. So much talent. The main event of night two was a send-the-crowd-home-happy, house-show style contest celebrating the birthday of the company. They close with some PR for the show on the 23rd which will feature Pantera defending against Tonsho and ET defending against Kono and Alejandro. I wouldn't recommend this one for newcomers to the promotion, but if you're at least slightly acquainted, check it out.