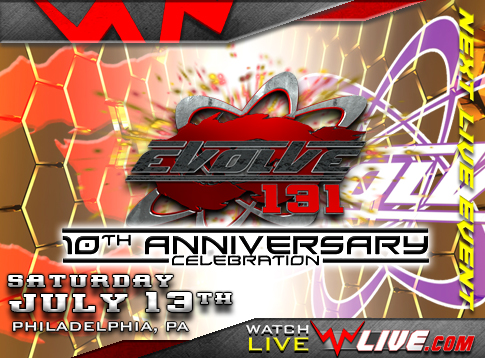 Matches
1.Briggs vs Greene ***
2.Maluta vs Stallion vs Wolf vs Bravado ***1/4
3.Henry vs Ruas ***1/4
4.No DQ: Shotzi vs Lauren ***1/2
5.Corino vs Babatunde **
6.EVOLVE Tag Titles: Unwanted(c) vs Skulk ***3/4
7.Riddle vs Gulak ****1/4
8.EVOLVE, WWN Titles: Theory(EVOLVE) vs Drake(WWN) ***3/4
9.NXT Title: Cole(c) vs Tozawa ***
Thoughts:
In celebration of 10 years, EVOLVE is airing on the WWE Network with this one. I actually signed up for a free trial to see this. It's been a long time since I've been a subscriber and it won't last past the 30 days but let's take a look and see what we have here.
I dig the opening video package. I actually watched this before AEW because I was having issues with B/R last night. I've seen the show now, but the review will be up in a few hours after I take care of myself for a bit. I'm dealing with a bad tooth infection and face swelling so I didn't sleep much last night. I don't sleep much in general, though, but today is a bit rough.
Anyway...
The opener was a good contest, though the ejection of Lauren was a bit off. Either way, it was a nice start and I like seeing Briggs stand tall to start the show. I've been big on the guy recently and I tend to be right about these things. He has a decent trajectory and can be a great hand somewhere when his EVOLVE days are over.
They run a package showcasing The Unwanted which featured a nice King promo. Good stuff. WWE's influence on display.
The fourway freestyle was a fun spot-cluster. Stallion came off well, especially.
The mma influenced followup was good. It feel off at times, but I liked it overall and the finish was a nice touch.
The first, truly recommendable match of the night for me was the hardcore battle. The run ins were a bit much, but they did add to the story. It would have been a better story if Shotzi had won, though. The stiff kick early looked like a broken nose, one of many on the show. The dive into the chairs was sick. A few minor issues and the thud of a finish with them cutting away during the build hurt the quality a tad but it's still worth seeing.
The squash was decent. Babatunde has a way to go but has potential.
The EVOLVE Tag Championship match kept things going nicely, with both teams putting in for a great, tornado style battle. I'm glad they mentioned Fox training Austin and that his brand, WWA4, was spotlighted a tad during this section. The entire Unwanted group failed on this card. After the match, the Skulk danced around like the awesome assholes that they are. I'm happy Fox got this big showcase win on the Network.
The Catch Point package was great. Stallion coming out with Riddle was interesting and they made sure to promote 132 which was smart, though they failed to tell the WWE fans watching how they could see that show.
More on that in a bit.
Gulak and Riddle killed it in a truly fantastic match. It was actually one of the best technical based contests of the year. Go well out of your way to see that one. Riddle winning confirmed to me that WWE cares more about his trajectory and build in NXT than they do about 205 in general.
Bryon Idol came out, coughed a lot, got booed, and the lights went out. Suddenly, he transformed into Paul Heyman. It was a cool moment and Paul's promo was perfect. He mentioned being back home, put over the show and next match big. Great stuff.
They failed to explain to newcomers why there were two belts, what WWN really is at all, and they actually buried the belt in general. That's iffy stuff.
The unification bout was great, at least. I loved the line, "you can't hit me harder than life has", which added perfectly to the story. Theory winning was the right call either way as he's the face of the brand and has been positioned as a future WWE star for a while now.
They put over Briggs after to set up a future match which was nice, though since this was the debut of the brand on the Network I think they should have held off.
We closed the in-ring action section of the show with a good NXT Title match, though it felt more like something you'd see on a throwaway episode of TV than a special. Oh well, a lot of the NXT guys take it a bit easy when they come in for EVOLVE shows so I knew this was possible and it's not like it was bad or anything.
Gargano came out to close the show which was a nice throwback moment.
In all, this was truly a great show elevated nicely due to the work of Riddle and Gulak as well as the two EVOLVE title matches turning out great. In many ways, it was a definitive show for the brand. They had a hot streak for a while where they were killing it but most of their shows are good, little events that leave you happy even if they aren't full of MOTYC level contests. Take out the Catch Point match and that's kind of what this was and, really, that's a good spot for them. It's enough to help them be on the radar of fans. I'm happy they got this spotlight moment and hope it's not the last. I'm sure this feels like validation for Gabe in partnering up with Vince.
Now, the bad...
No mention of when they'd return to the Network. No mention, that I heard, of EVOLVE streaming service nor how to watch future shows. Minor production issues throughout, though nothing as bad as what they used to have. Those are the biggest complaints I'd bring up.
That said, this is still a very enjoyable event and easily one of the better things ever to air live on the WWE Network. Check it out!
Overall Rating:80 /100%