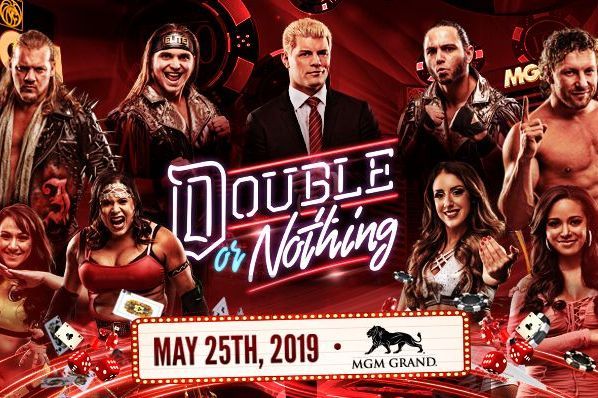 Matches:
0a.Casino Battle Royale ***
0b.Kip vs Guevara ***1/4
1.SCU vs Strong Hearts ***3/4
2.Awesome Kong vs Baker vs Nyla vs Kylie ***
3.Gueros del Cielo vs Best Friends ***1/2
4.Hikaru, Riho, Ryo vs Aja Kong, Yuka, Emi ***3/4
5.Cody vs Dustin *****
6.AAA Tag Titles: Young Bucks(c) vs Lucha Bros ****1/4
7.Kenny Omega vs Chris Jericho ***1/2
Thoughts:
Many of my random ramblings can be found in the live coverage post for the show. That said, this show surpassed even my large expectations so here's some more.
Let's start from the top.
The Casino Battle Royale was an overall good match. I'm not typically a huge fan of this style of match, but it was enjoyable enough. My only real issue was Page winning since it felt a bit cheap, but really it's a minor issue and I'm sure the payoff will be good enough.
The other preshow match was a fairly good "get the crowd ready" cruiserweight match.
I'm sure the preshow did little to convince holdouts to order the show, but it was a perfectly fine hour of wrestling.
The show proper began with a great contest, showcasing the Strong Hearts very well. T-Hawk is going to be a star in AEW, like I thought.
The addition of Awesome Kong was great, though I think she was hurt early on because it felt like things went a bit off of script. Baker and Rae were the main attractions here and I am excited to see where Brandi takes the division.
Our first two on two of the night was a very good contest, building up nicely enough. The first half felt a bit like a TV match, as I mentioned in the live coverage, but not everything needs to be a complete banger and they did more than enough to get a recommendation level match.
I LOVED that the Super Smash Bros appeared after. I actually announced that they'd be involved with AEW a few months ago once their visa issues were settled. It looks like they were settled. I hate that the crowd had no idea who they were but they will soon enough.
They officially announced a show in Chicago on August 31st.
Next up, we have our joshi showcase. Yea, the timekeeper screwup took a tiny bit out of the match but not much. It was a great contest that got all six women over with the fans and I'm sure Kenny was more than happy with the results. The crowd treated them like the stars they are.
Cody destroying the HHH throne with a sledgehammer was an interesting enough spot. It'll get people talking, at least.
The Rhodes brother match, though, should be the main talking point. I have been watching wrestling for over 20 years. I have a very small list of 5 star matches, because that score should only go to the best of the best.
This earned that rating from me. A perfect love song to the 90's style, which is exactly what Cody is perfect for, and one of the most emotional masterpieces I've ever seen in the ring. Just run and watch it NOW if you missed it.
Now, it's worth noting that the championship presentation segment was a bit rocky. MJF will be the Miz of AEW and will do a good job in the role, at least.
The Bucks/Lucha Bros match was fantastic, of course. Now that I've been able to actually see it (I had buffering issues during the last two matches on the card when it aired live) I can say that the "ring rust" stuff didn't really take much of anything away from the overall quality. It was a spotfest full of some of the most creative wrestling in the world and that's what it was supposed to be. I didn't hear them mention the rematch scheduled in AAA coming up nor the promotion's upcoming MSG show which was disappointing.
Excalibur has always been one of the best, by the way, but he was in a class of his own tonight.
Main event time.
So, this was a very good match. Yea, the "ugliest ddt" spot was bad but really everything else hit the mark well enough. Debuting a new finisher can be tricky, so it lacked the pop a finisher normally would have but it also added to an "outta nowhere" finish. I applaud the selflessness of Omega for taking the fall. The action was good as was the story work, even if it wasn't as good as their first encounter.
Afterward, we got a hot debut of Moxley to end the show on a high note that has the entire IWC talking.
There are minor nitpicks that I have about the show, but they are indeed minor in the grand scheme.
This morning I went ahead and watched it top to bottom to get the full effect. I didn't want to just make up for missing most of the last two matches, but I wanted to confirm what I thought last night.
I also wanted to confirm that I could give five stars to a match I thought wouldn't get past four.
I stand by my rating.
This was simply a hell of a show and one of my all time favorites in terms of significance.
Thank god for how amazing wrestling is right now.
Everything was good, at the very least, and most everything on the main card hit recommendation levels.
AEW was set to be a force, but they still had to hit a homerun here. They did just that.
So, if you somehow missed this, go see it now. Do not pirate this. If you can't pay $50, use a vpn and get it for the UK price of $20. Just find a way to watch this while supporting AEW.
They earned every penny.
Overall Rating: 90/100%